Camps and Israel
SUMMER CAMP
Not only is OSRUI home to our annual retreat, Etz Chaim is proud to send kids, staff and faculty to participate at URJ Olin-Sang-Ruby Union Institute (OSRUI) in Oconomowoc, WI.
The camp offers several sessions to meet the needs and interests of campers from rising 3rd grade through high school. These sessions can be anywhere from five days to seven weeks. During that time, campers stay in cabins or tents all while learning about Jewish life.
Plus, nothing beats Shabbat Shirah (song session) and Rikud (Israeli dancing)! Lifelong friendships develop, and each child's connection to Judaism is strengthened at OSRUI.
Etz Chaim is proud to regularly send the largest contingent of campers to OSRUI from a mid-size congregation, and one of the largest contingents from a congregation of any size!
Contact Rabbi Consnowsky, Rabbi Wainer, or Marla Aviva Bentley to learn more, and for scholarship information.
CONGREGATIONAL RETREAT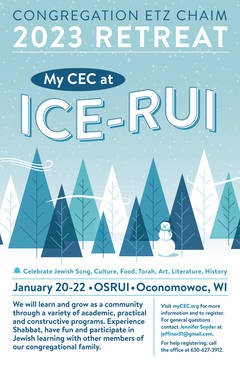 One weekend every spring we travel to the Olin-Sang-Ruby-Union Institute (OSRUI) located in Oconomowoc, WI for a retreat. We offer multiple programs for all ages. For instance, some programs are discussion groups, others are hands-on, and some take place outside.
The retreat is for adults and children alike. School-age children sleep in a camp cabin under the supervision of college-age counselors. Adults have rooms in another building and most have a private bathroom. Younger children stay with their parents.
And don't worry, we build in plenty of time for connection and bonding with our programs and over meals.
No child is too young, and no adult is too old. All are welcome to learn, pray, eat, relax, sing, and just enjoy Shabbat for an entire weekend!
Learn more about and register for the 2023 Congregational Retreat here.
SCHOLARSHIP
The Robert Scott Samuels Scholarship Fund
The Robert Scott Samuels Scholarship Fund is in honor of Robert Scott Samuels, who was taken from us far too soon. It supports those wishing to attend the Olin-Sang-Ruby Union Institute Camp or CFTY (Chicago Federation for Temple Youth) Leadership Training.
As for Robert, he was an accomplished swimmer and diver at 5 years old. He loved rock and roll music and playing with his older brother Michael, two years older than him. While Robert is no longer with us, this fund can support others in enjoying what Robert cannot.
The Jeremy Bruder Memorial Scholarship Fund
This scholarship is in honor of Jeremy J. Bruder who was tragically shot and killed by a classmate on June 2, 1996. It provides scholarships for the Olin-Sang-Ruby Union Institute camp and the Youth Israel Trip for young people who would otherwise not be able to participate.
During Jeremy's high school career, he excelled academically and was a true humanitarian. He actively participated in his school's mentoring and peer mediation programs, and played several varsity sports. As an honor student, Jeremy had a voracious appetite for knowledge and always carried at least one novel or mechanical operation manual under his arm. His grades, his attitude, and his high moral outlook allowed him to achieve many of his goals but his biggest goal will never be accomplished: to attend the University of Arizona and attain a bachelor's of science in as well as a law degree.
He viewed his future with optimistic eyes and would have flourished in any academic environment because he applied the 3 D's: dedication, desire, and discipline. He was so persistent in training for a triathlon that at 13 years old the race organizers changed the rules so he could compete with adults! Not only did he finish in the top 20% overall of the Wisconsin race, he proudly accepted the trophy for 1st place in his age group. On top of that, he battled exercise-induced asthma and still performed as well as he did.
Jeremy constantly challenged himself not only by participating in triathlons, but he summited the Cascade Mountains in Washington State over a period of 21 cold and rainy days when he was only 15.
While Jeremy is no longer with us in body, he remains with us in spirit and we're sure he's beaming with pride that he's still able to help people with this scholarship fund.
Thu, September 28 2023 13 Tishrei 5784